DOMESTIC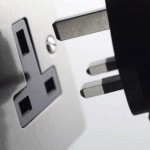 House Rewires / Alterations: We offer a full or partial rewiring service for all types of domestic properties. This also includes advice on the type of installation you may require and installation of all new cabling and incorporation of new technologies.  To replace old, dangerous or non-compliant cables, fittings and fuse boxes with modern electrical components. Whatever you require, whether additional sockets in your kitchen or new lighting in a bedroom, an extra television point or re-modelling your home office, we can suggest products and technologies to match your requirements. Our services range from minor alterations, such as repositioning a light switch, to full house rewires.
We Will: Provide A Free Quotation – Design The Electrical Circuits – Install New Wiring and Accessories – Test And Certificate New Installations – Register The Installation With Local Building Control (Part P).
Often properties have inadequate sockets to cope with appliances throughout the house, especially the living room.
This can result in the use of multi-plug adaptors and trailing leads. Installing extra sockets can help to keep your property neat and tidy and prevent overloading of your sockets.
We can supply a range of accessories from simple white plastic sockets to decorative sockets and switches to suit your interior design.
Outdoor Electrics and Garden Lighting:
Would you liketo make a feature of your planting, put the latest LED lighting in your decking or simply add security lighting to your home? We can inform you of the options available.
Learn to think of your outdoor space as an extra room. Do you need some outdoor sockets or power to your water feature, electric gates on your driveway or simply a place to plug in your radio in the potting shed?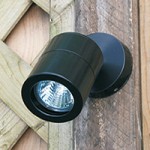 Garden Lights can light seating areas for dining in the evening and ponds, paths and driveways to create a safe and ambient environment.
There is a wide range of options from a simple floodlit garden to more creative lighting such as lighting of patios, steps, fountains, trees, walls, ponds and lawns.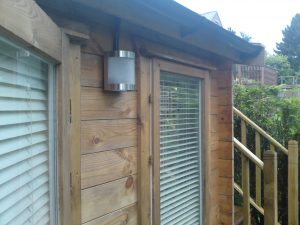 We can design your lighting and recommend the ideal type of lights for your requirements.
Summer houses and sheds are becoming popular for additional, low cost living space. You can pursue a hobby or just to relax away from the main house.
We can run underground power to your summer house or shed allowing you to use your power tools, photographic equipment, TV or computers etc.
Power can also be installed into garages for motorised garage doors. We generally recommend water resistant power sockets for sheds and garages.
Cooker Installations: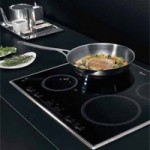 Whether installing an electric oven or just replacing an extractor fan, ProSafe Electrical Services can resolve your kitchen electrical requirements.
Phone Wiring and Sockets:
Have you recently moved home and you are now short of phone points? Or do you just need them in better positions? We can install new cabling to wherever you choose, and conceal it professionally so it's both safe and neat.
Inspection & Testing, Electrical Reports including Landlord Electrical Checks: 
Worried about the state of your electrics, just moved home or wanting to rent your property. We recommend all homes are periodically inspected every ten years or whenever you deem necessary due to change of use. We can come in and perform a thorough inspection and testing process on all existing circuits and we provide you with a detailed electrical report on the status of your property.
Fault Finding and Maintenance:
Safety is of the utmost importance at home. Regular maintenance of your electrical installations and equipment will help stop problems from developing Our skilled electricians can do planned maintenance at a time to suit you, or in the event of a problem, we will find the fault and fix it with minimal fuss.
Fuse Board Repairs and Full Replacements: 
We offer a complete rewiring service for all types of fuse boards. This also includes advice on the correct type of consumer unit for your premises and all electrical accessories, including all up-to-date safety earth bonding according to IEE Wiring Regulations.
A Consumer Unit (fuse box) sits between the electricity meter and the electrical circuits in the house. It is the heart of the electrics in your property
Modern Consumer Units have several advantages over old fuse boards. If an electrical fault were to occur, they would prevent loss of power to all of the property by only cutting power to the problem circuit. Old fuse boards would have cut power to all of your property, including your lights!
We install the latest and safest 17th Edition Consumer Units. As NICEIC registered electricians, we also issue you a test certificate and register your installation with building control, a requirement by law.
Many houses still feature old fuse boards that lack the safety features and convenience of Modern Consumer Units.
Additional power required for extensions or loft conversions can over loaded older fuse boards rendering them unsafe, they also offer little protection from electric shock.
We provide a FREE estimate to replace existing fuse boards with a Modern Consumer Unit which provides a far greater level of protection.
FUSE BOARDS MAY REQUIRE AN UPGRADE IF:
Fuse boards are Obsolete Or Faulty
Fuse boards are Overloaded
Additional Power Is Required For A House Extension
You Seek Peace of Mind From Additional Protection
Earthing ensures, in the event of a fault, that the electrical supply would be promptly disconnected to prevent electric shock.
For example, a live wire in a washing machine may have become exposed by a sharp metal edge. This could make the case of the washing machine live resulting in serious injury if touched.
Earthing ensures fault current flows from the exposed wire to the consumer unit promptly disconnecting the electrics and preventing the risk of electric shock.
We always check your Earthing and bonding with every installation of a consumer unit, if you are in doubt about the status of your earthing and bonding, please contact us for a free quote.